Media and Podcasts
Looking for more?
---
Recreation to Re~Creation podcast
"This show explores how through our lived interaction with our social and physical environment ~ we create meaning and connection with the world around us and are drawn to action for it's protection.
Each month is a different story, different cause & a different way that we can be a part of the wider solution no matter who & where we are."
---
Life in Motion podcast
Episode 133: Spend More Time Outside – How to be active and connected to nature with Colin Harris of Take Me Outside
"In this episode we interview Colin Harris of Take Me Outside. Growing up in Canada, Colin had a great appreciation for its vast landscape. He was also inspired by Terry Fox's story; the man who ran across Canada to raise awareness for cancer. This inspiration turned to a dream, and eventually a reality. But Colin wanted to raise awareness for something else – outdoor education. He founded Take Me Outside and set off across the country. Along the way, he stopped at 80 schools and engaged 20,000 students in the conversation of how to be active and connected to nature. The mission didn't stop there. Now, Take Me Outside works with organizations, school boards and individuals on initiatives that encourage thousands of youth to spend more time outside and less in front of a screen. If you've ever wondered the benefits of the outdoors and the impact it can have, then this one's for you!"
---
Talking with Green Teachers podcast
Episode 51: Balancing screen time and green time
Presented by Green Teacher, featuring Kerry Crofton, PhD, of Less Screen More Green and the Global Health Alliance
"Why is it so challenging to find a healthy balance between digital time and outdoor time? How can educators address digital overload and excessive screen time? What role does mindfulness play in this discussion? Dr. Kerry Crofton walks us through research — including some from her team at the Global Health Alliance — and shares her experiences supporting educators in this timely exploration of the upsides and downsides of digital technology in learning settings. Digital tools have an important place in education, but knowing when and how to use them are key considerations for educators in the 21st century. (If you listen to the end, you'll hear a reading of an original song written by Kerry!)"
Kerry Crofton is the featured speaker for the Caring for Our Earth's Caregivers workshop series, presented in partnership between Take Me Outside and Green Teacher. Recordings and registration while the series is live are available here. The webinars are free of charge and all are open for registration to the general public. Recordings are available for public viewing through Green Teacher's YouTube channel for 30 days after the live session. Beyond 30 days, only Green Teacher subscribers can access them, along with their archive of 120+ webinars.
---
Outdoor Learning – Nakoda Elementary Wild Program
The NES Wild program began in 2021 with grade 4 students from Nakoda Elementary, located in Mînî Thnî, Alberta, to help get them outside. Every afternoon, educators linked and Indigenized curriculum so students could embrace the land and their connection to it. Take Me Outside partnered with this program to create this short film to help inspire and show other educators what is possible when both teachers and administration are committed to students learning outside. This project was generously supported by the Pauw Foundation.
---
Pauw Foundation
Take Me Outside connects classrooms with the great outdoors
Colin Harris thinks everyone, especially students, should spend more time outdoors. Harris is the founder and executive director of Take Me Outside (TMO), an organization focused on raising awareness on the importance of outdoor learning and connecting kids with nature.
In 2011, he went as far as launching the organization by running 7600 km across Canada and visiting 80 schools along the way.
Whether taking online classes, consuming our favourite media, or meeting via Zoom, the past couple of years have forced most of us to spend far more time on our devices than we used to. With constantly shifting health restrictions, students have been impacted particularly hard as schools moved between in-person and online learning.
The rapid increase of screen time makes building a closer relationship with nature essential. Harris says the main goal of TMO is to "extend the learning environment beyond the desk and four walls and to use the great outdoors as part of the regular teaching practice."
---
Earthy Chats podcast
"Wide-ranging chats with environmental educators about best practices, changing trends, and new insights about the outdoor and environmental learning field. Long-time educators Ian Shanahan from Green Teacher and Jade Harvey-Berrill from The Outdoor Learning Store and Stoked on Science facilitate the cross-pollination of ideas.
Check out Episode 10 featuring TMO's Executive Director, Colin Harris!
Colin Harris, founder of Take Me Outside, works to bring together physical education, outdoor education and giving kids a break from technology. His passion and hard work will have you scrambling to build your own non-profit legacy or maybe borrow his and run across Canada yourself?"
---
Disconnect Podcast: #15 – Take Me Outside: Interview with Colin Harris

"Colin Harris is the the founder and executive director of Take Me Outside, as well as a PhD candidate in educational research at the University of Calgary. In today's episode, you'll hear about Take Me Outside and Colin's run across Canada to promote the cause of taking kids outside to learn."
---
RMO Today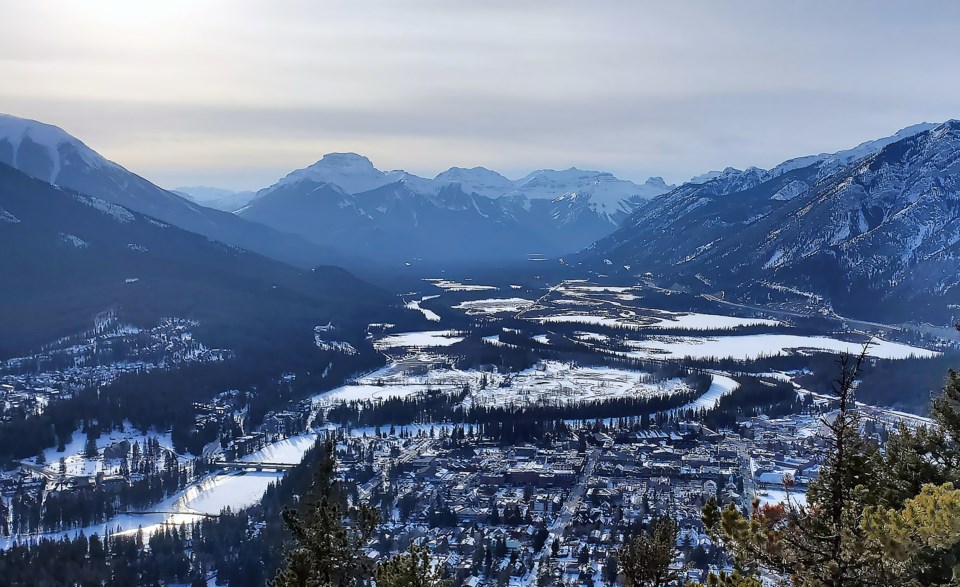 Mar. 29, 2022. Four Bow Valley organizations will get a combined $175,000 from the Wim and Nancy Pauw Foundation.
The Banff-based foundation announced Take Me Outside, Ecole Notre Dame des Monts, Nakoda Elementary School and Spirit North will have funding to help with programs that support wellness, outdoor pursuits and outdoor and land-based learning. The aim is to ensure financial barriers don't preclude people from participating.
"The Wim and Nancy Pauw Foundation is about building a more vibrant, active and healthy community," said Cathy Geisler, the executive director of the foundation, in a media release. "We are thrilled to support these programs that break down barriers, enrich learning opportunities and bring communities together, all in the great outdoors."
---
EcoParent
Sept. 27, 2021. Over the last year and a half, the world has had to rethink many norms in order to adapt to this global pandemic. Hugging family members, socializing with neighbours, gathering together for events – we are eager to get back to the way things were, and for good reason. But are there some areas where we have had to rethink what might be worth holding onto?
As the world contemplates a shift to a new normal, it appears that "eco-" education is finally getting its day in the sun. Worldwide, the evidence is mounting that being outdoors poses a lower risk for contracting COVID-19, for adults and children alike, potentially increasing everyone's commitment to spending more time outside. Ample studies have demonstrated that being outdoors is beneficial to physical and mental health, reducing feelings of isolation, increasing vital activity, helping to regulate stress, strengthening the immune system, and forming a lasting bond with nature. For environmentally conscious parents and educators alike, none of this is new.
---
EdgeCast podcast
June 17, 2021. During the pandemic we wanted to reach out to others. We wanted everyone to realize that they are not alone and give people positive things to listen to as they get out and walk in nature.
Colin Harris is the Founder and Executive Director of Take Me Outside (an organization that encourages people to get outside more). We got to discuss his new book called:  Take Me Outside: Running Across the Canadian Landscape that Shapes Us .
His book takes you on a detailed journey of Colin Harris's cross-Canada run to inspire students and teachers to get outside and experience the benefits and beauty of nature.
---
Whyte Museum
May 28, 2021. Join local author Colin Harris to hear his story about a cross-Canada run to inspire students and teachers to get outside and experience the benefits and beauty of nature.
---
Talking With Green Teachers podcast
Outdoor learning during a time of physical distancing
Take Me Outside founder and Executive Director Colin Harris joins the Green Teacher podcast to discuss the role of outdoor learning during a time of mandated physical distancing, while discussing physical and institutional barriers to moving beyond the four walls of the classroom. He also highlights the importance of connecting with Indigenous communities to gain their insights on nature and ways to learn about it.
---
Nature Conservancy of Canada
Jan. 9, 2014. Calling in from the comfort of his home in Canmore, Alberta with his four-legged friend at his feet, Colin Harris, executive director and founder of the Take Me Outside (TMO) organization, spoke with NCC-staffer Carly Digweed about getting children outdoors, his nine-month trek across Canada, and his appreciation for winter weather.
CD: What sparked you to take on the Take Me Outside initiative, to get kids outdoors? And why do you feel it's important?
CH: In my youth, when the school bell rang, I was outside until dinner. And once I finished my homework I was outside until it was dark and the street lamps came on. And I'm sure that that phrase has been repeated ad nauseam by many, many people. But originally that spark was working in outdoor education; seeing firsthand, kids who came up to our centre for three, four, five days… removed from any devices and just seeing  sort of mini-transformations happening within those few days. Even just seeing the smiles on their faces and observing a real enjoyment for being outside, a real enjoyment of being with their classmates.
---
The Times Colonist
Colin Harris ended his nine month, cross-Canada odyssey Tuesday by dipping his foot in the ocean at Royal Roads University, but it was just the beginning of the next episode in his quest to bring youth closer to the great outdoors.
The 36-year-old had plenty of company in the final metres of his run, which began in Newfoundland in January. Members of the cross-country team from Sangster Elementary School and Sooke school district superintendent Jim Cambridge ran with Harris through the Royal Roads campus, and still more students were at the shore to cheer the group on.
---
Royal Roads University
7,600 kilometers. Nine months. Three pairs of runners. One passion.
That's what has been driving Royal Roads University MA in Environmental Education and Communication student Colin Harris across Canada on a run that spans from St. John's, N.L. to Victoria, B.C. Harris combined a life-long dream to run across the country with his Take Me Outside campaign to help youth understand the value of being outdoors.
"You ask anyone over the age of 25 to 30 what their childhood was like and they will tell you most of their time was spent playing outside," Harris says. "That's what's changed."
---
Goldstream News Gazette
Oct. 25, 2011. Not long after dipping his toe into the Esquimalt Lagoon, Colin Harris was racing a rambunctious gang of Sangster elementary kids up the hill, toward Hatley Castle.
Despite running 7,600 kilometers over the past year, Harris didn't hesitate to tack on a few more strides. The 36-year-old ultra-ultra marathoner from Ontario stepped off the ferry at Swartz Bay Tuesday morning and ran to Royal Roads University, the last marathon distance he'll complete for a while.
Harris launched his Canadian odyssey in the spirit of Terry Fox. The lanky redhead dipped his toe in the Atlantic Ocean off St. John's, N.L., on Jan. 17 and ran west, one marathon at a time.
"When I started nine months ago, it was overwhelming. You can't think about the Pacific Ocean, you just had to take one day at a time," he said. "It's been a long nine months. I'm happy I've made it."
---
Kamloops: The Daily News
Oct. 14, 2011. When Colin Harris learned that children today are likely to face a shorter lifespan than their parents, he knew he had a good reason to run across Canada.
Wearing a T-shirt that read, "Tell your teacher to take you outside," Harris brought that purpose to an assembly at Beattie School of the Arts Friday morning.
"I'm just trying to encourage that message of balancing time in front of the screen with time outside," he said. "I've worked in outdoor education for the last decade or so, so I think I've seen the benefits to children of spending time outside and research bears that out."
---
Explore Magazine
Oct. 5, 2011. Running nearly a marathon a day. Every day. From St. John's Newfoundland to Vancouver, BC.
Just typing those words leaves me… amazed? in awe? inspired? … exhausted?
Yes, even thought of running each day, let alone running a marathon each day, exhausts me, yet that's what Colin Harris of Take Me Outside (TMO) has been doing each day since January 2011. And he's taken on this extraordinary challenge with the purest of intentions: To encourage the youth of today to get outside.
As he runs his way across the country, Colin is making appearances in schools and communities to spread the organization's message and to introduce to students, teachers and parents alike the Take Me Outside Challenge. The challenge is simple: spend more time outside, be active and connect with nature.
---
Kickass Canadians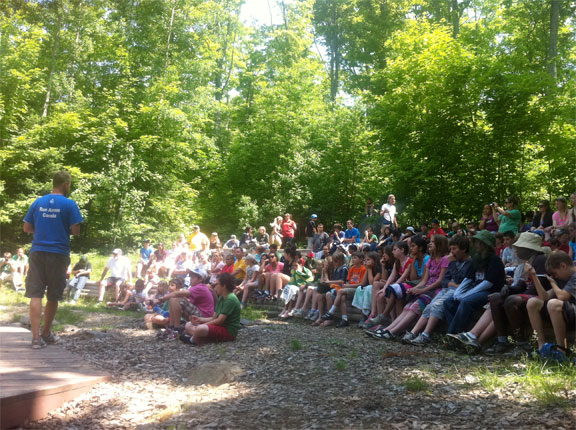 June 26, 2011. There are people who do the bare minimum asked of them. Colin Harris isn't one of those people.
The idea to run across Canada first took root in his mind when he was 13 years old and living in Winnipeg, Manitoba. He was born in Drumheller, Alberta, but moved around the country whenever his pastor parents were reassigned. So it was that Colin found himself on Portage Avenue when the torch procession for the 1988 Calgary Olympics passed through Winnipeg.
---