Reflections from the 2023 Winter Challenge
Our yearly Winter Challenge does not draw the huge crowds that our annual Take Me Outside Day or the year-long Learning Challenge does, but we think that the group of educators that commit to daily outside time in winter is a really special bunch. It's not always easy to suit up yourself – and your learners – to then head out into the cold.
Throughout the Challenge we supported educators by providing daily suggested activities around a central theme, while extending the learning with additional resources and plans covering a variety of subjects and grades. Each year, we aspire to make the Winter Challenge an accessible and inclusive offering with multiple points of entry. The sharing aspect on social media also provides a valuable opportunity to connect and build community among those involved and anyone who comes across the hashtags #TMOWinterChallenge and #DéfiHivernal. These past two weeks have revealed so many amazing learning opportunities and adventures.  All of us at the Take Me Outside headquarters were blown away!
Speaking of being blown away, we know all of you will be too when you check out some of the photos of incredible learning that took place during this year's initiative. Below you will find some moments of delight from this year's Winter Challenge. We love seeing that some folks took ideas from the Activity Guide (which will remain active all year long), while others explored ideas of their own design!
Photo Highlights Reel
*Click any of the photos below to enlarge them.
2023 Winter Challenge Prize Winners
Congratulations to our 2023 Winter Challenge Prizes winners who each received a $100 gift card for MEC. If you click the hyperlinks you can explore what the winners got up to through their social media shares!
Feedback + Gratitude
If you participated in this year's Challenge we'd love to hear your feedback – it should only take a few minutes at the most, and five participants will be randomly chosen to win $50 to spend at MEC! It's a small token of gratitude for the educators who are part of this amazing community year-round. Thank you!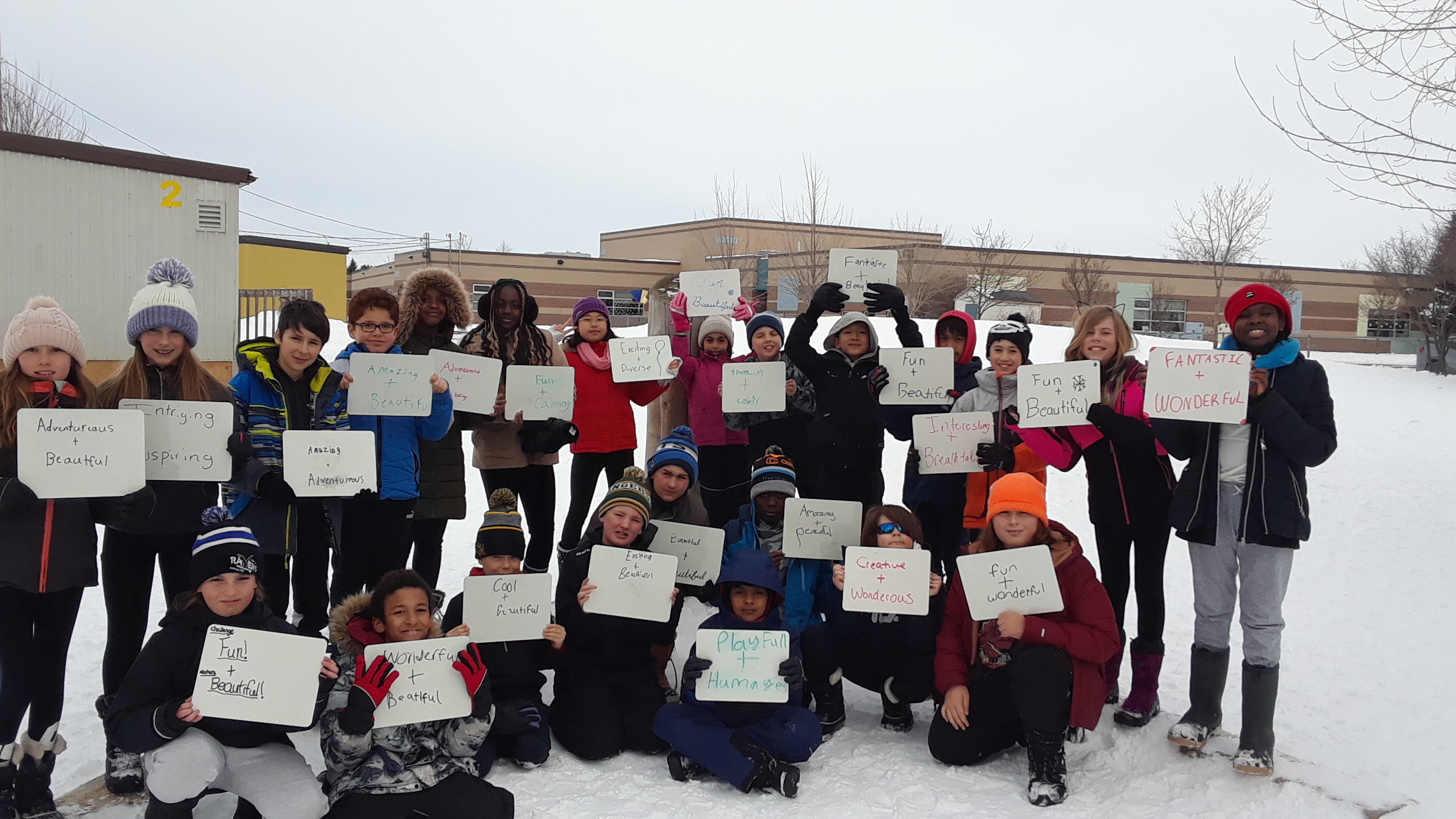 Image: "2023 Winter Challenge! We reflected as a class about nature and the wonderful challenges we were given to do. The students expressed their joy with descriptive words!" – Joanne Nisbet
---
1 Reply to "Reflections from the 2023 Winter Challenge"
Joanne Nisbet

February 28, 2023 (6:29 pm)

My students loved this experience and so did I. I love being outside and so do my students. They reflected on being outside in nature and enjoyed all the challenges. As an outdoor enthusiast, the natural world is our playground. In these environments, we truly find ourselves – whether that's by wandering through luscious woodlands, up snowy mountains, or walking to anywhere especially school! We all have little spots in nature that offer us much more than pleasant views. That it what I try to inspire in my students. The natural world, throughout history, has been regarded as having a host of benefits for humankind. There are so many reasons why me and my students love nature and why everyone should too!
---